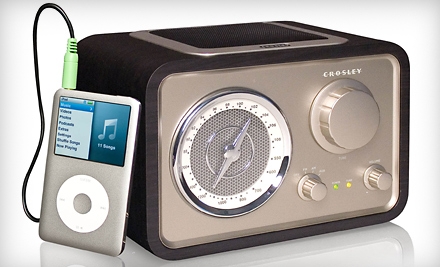 Groupon has this retro cool deal for you today: for just $49 you get a Crosley Solo Radio/MP3 Player in Black ($129.95 value)! Shipping is an additional $4.95
Featured in Vanity Fair and People Magazine, Crosley Radio blends retro designs with modern technologies. The CR221 Solo receives audio over the air or through the wire with most portable audio or MP3 devices, belting out clear audio with AroundSound technology that helps produce surround-sound-like quality. The device's analog radio knob, cubism-culled design, curved corners, and interior shag carpeting imbue the player with sleek vintage style.
Limit 3 per person, with 2 additional as gifts. Limit 1 per order.  This expires December 2, 2011.
Get the Deal:
Check out HOT Amazon deals on your favorite items!